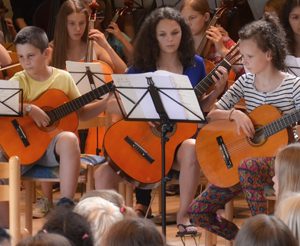 guitar-ensemble-beginner
Target group:
The guitar course is aimed at young players with a good basic knowledge of the instrument who have fun making music in an ensemble.
Repertoire:
Classical and contemporary guitar arrangements, joint pieces with the Rocking String Orchestra.
The encounter with the strings of the IMC and the participation in large ensembles in addition to the performances of the guitar ensemble make the participation for guitarists a unique experience.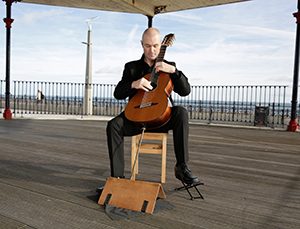 Guitar Ensemble A
Target group
The course is aimed at advanced classical guitarists. Knowledge of notes should be available as well as the simple playing of pitches up to the fifth pitch.
The course consists of ensemble work, rehearsals and performances. Redmond O'Toole will be open to the course and will give interested participants the opportunity to work on solo literature or in small ensembles.
Repertoire:
Besides arrangements by Phillip Glass and some traditional pieces, the ensemble will perform original compositions by O'Toole. The group will also write a new piece together during the week. This is a great opportunity for young guitarists to learn from an established musician who has worked with some of the world's leading contemporary composers.